Early evidence of the first settlers in the Estremoz area dates back to Neolithic or Stone Age times. With over a thousand individual megaliths in the Evora and Estremoz region of the Alentejo alone* it is testament to an early civilisation having made their home here.
Known as the self-appointed Megalithic Universe, the countryside is strewn with these prehistoric stone monuments—both in the form of isolated menhirs (single stones), cromlechs (stone circles) and dolmens (burial tombs or chambers).
Why our prehistoric ancestors decided to erect these fascinating structures nobody knows for sure. However, it is said that these ancient people were more in tune with the earth's natural energy than we are today and the megaliths are often built in alignment with each other and also with celestial bodies such as the sun, moon and stars.
The megaliths in the Estremoz area range from those on private land that tend to be forgotten piles of rocks in the corner of a field, right down to some of the most important and spiritual sites in Iberia, if not Europe—and we have them right on our doorstep!
Here are the three not-to-be-missed sites that are within an hour's drive of Estremoz: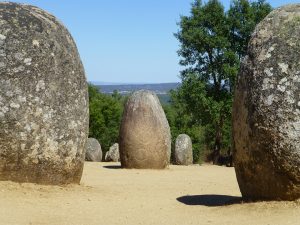 Almendres Cromlech– at 60km or under an hour's drive south-west of Estremoz
Located just outside the village of Nossa Senhora de Guadalupe, this impressive group of ancient megaliths is the largest in Europe. Dating back to 6,000BC, it was discovered in 1966 and consists of around 95 menhirs (some with carvings) that make up circular and oval patterns. It is thought that the cromlech was created either as a sacred place of worship or for the study of the heavens. Whatever it's original purpose, visitors today report a feeling of peace and well-being, and some even find it hard to leave.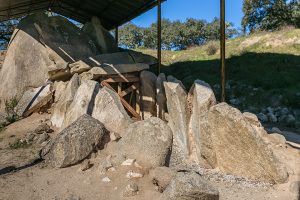 Grande tomb of Zambujeiro – 60km/50 minute drive towards Montemor-o-Novo to the south-west
Only 5 kilometres from the Almendres Cromlech, the Anta Grande de Zambujeiro is the tallest example of a megalithic burial tomb in the world. Estimated to have come from 4,000 BC it is built into the side of hill in an olive grove and consists of a corridor and burial chamber with 8-metre high pillars. Due to its size and proximity to the Almendres Cromlech, it is likely to have been the final resting place of a very important person.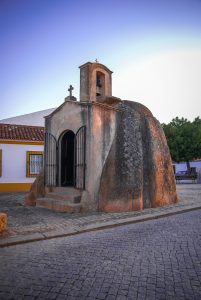 Anta de Pavia – a 40km/30 minute drive to the west of Estremoz
Located in the main square of the sleepy village of Pavia this is a superb example of a dolmen that experts date back to 3,000-4,000BC. The 4-metre high tomb was converted into a Christian chapel in 1625 and the interior still houses a 17th century alter decorated with the traditional blue azulejo tiles of the time.
Also worth a visit are:
Cromeleque das Fontainhas and Monte Fontainhas – close to Pavia
Anta da Herdade da Candieira – in Redondo
Cromeleque do Xeres and Menhir de Bulhoa – near Monsaraz/ the Alqueva
Some say that the stones have healing powers, promote fertility and radiate peace and well-being—I have yet to put this to the test but can assure you that it is top of my list of things to do!
* Source: VisitEvora.net
"In Evora district alone, more than 10 megalithic enclosures, more than 100 isolated menhirs, about 800 dolmens and close to 450 megalithic settlements. In addition to these, there are about 100 rocks with dimples (their functionality is still a mystery)."