Bifanas Estremoz – One of our favourite spots and exactly what it says on the tin!
Bifanas Estremoz, bar and restaurant, specialises in bifanas: thinly sliced pork cooked in garlic and a little paprika, and served in a local bread roll with mustard on the side – with or without fries. A great stop-off for visitors and if you haven't tried a bifana yet, served up and down the length of Portugal, then here is a good place to start.
€2 for the bifana and €0.90 for a beer, so you can't go wrong!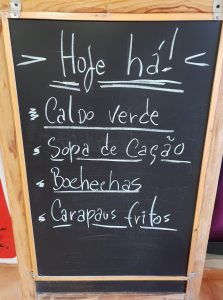 Located on the edge of the main square in the centre of Estremoz, with seating both inside and out on the terrace, Petisqueria Bifanas is always packed with locals – especially on market day – but any time it's a great place for sitting back with a beer and watching the world go by.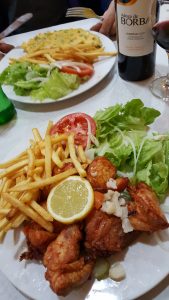 The waiters are helpful and the atmosphere friendly, plus if you don't fancy a bifana or want something more substantial, they offer daily specials. We can recommend the asparagus omelette—or try pézinhos de coentrada (corianda trotters), the soups, pica pau (fried beef dish) or their fried chicken…
If you're in Estremoz, check it out!
Bifanas Estremoz Petisqueira
Rossio Marquês de Pombal 62, Estremoz
Tel:  268 344 441
Opening hours: 07:00hrs to 24:00hrs