Some takeaway meals to try during lockdown in Estremoz. Having only arrived to live in Estremoz full time in September 2020, we have found ourselves going in and out of lockdown ever since—and for the past couple of months this has meant the town's restaurants are only allowed to sell food for takeaway.
Some, sadly decided to close this time round but others kept going, making use of social media to let us know they were up and running—and more importantly, what was on the menu for that day.
Here are a couple that we tried out:
Bifanas
Located in the main Rossio square, Bifanas is a favourite of ours for a quick, value for money meal at any time. During lockdown we tried their Pasteis de Bacalhau com arroz de tomate – kind of cod fishcakes with tomato rice. Other dishes include fried chicken and Alheira (a type of sausage similar to a croquette).
The daily menu is posted on Instagram and we just messaged our orders through with time of pick-up.
@bifanas_estremoz_petisqueira
Tasca O Carlos
Set in Rua Victor Cordon, we treated ourselves to a weekly takeaway order from Tasca O Carlos, trying their Bacalhau a Bras (a traditional dish made with salted codfish, potatoes and eggs), grilled lamb chops, pork loin in garlic and grilled fish including swordfish and fresh tuna. The servings are huge and Fridays are fish days when the owner makes a weekly trip to the fishing port of Setubal, to bring back the freshest fish you could wish for.
Tasca O Carlos posts a daily menu on their Facebook page and we used Whatsapp to order.
www.facebook.com/TascaOCarlos
Larau
The food at Larau has a great reputation and although we didn't get to try it out before lockdown, we did partake of one of their special themed menus. These change daily from Spanish, Italian, Mexican, Sushi, Thai etc and we chose to order from the Middle Eastern menu: mezze and falafel. Although more expensive than the other options in town, the quality shines through and it was well worth it.
The menu is posted daily on Instagram and we messaged our order across.
@laraurestaurante
Café/Restaurante Santo António
This unassuming little café/restaurant is just outside the Porta de Santo António gate and serves traditional home-cooked Alentejo meals. We found the Bacalhau a Bras here to be the best we have tried so far in town (with olives), and also loved the fried Carapaus (little horse mackerel, similar to whitebait) served with Migas de Coentros, a sort of bread pulp with lots of garlic and coriander. We also love the fact that everything seemed to be the same price: a bargain at €7,50.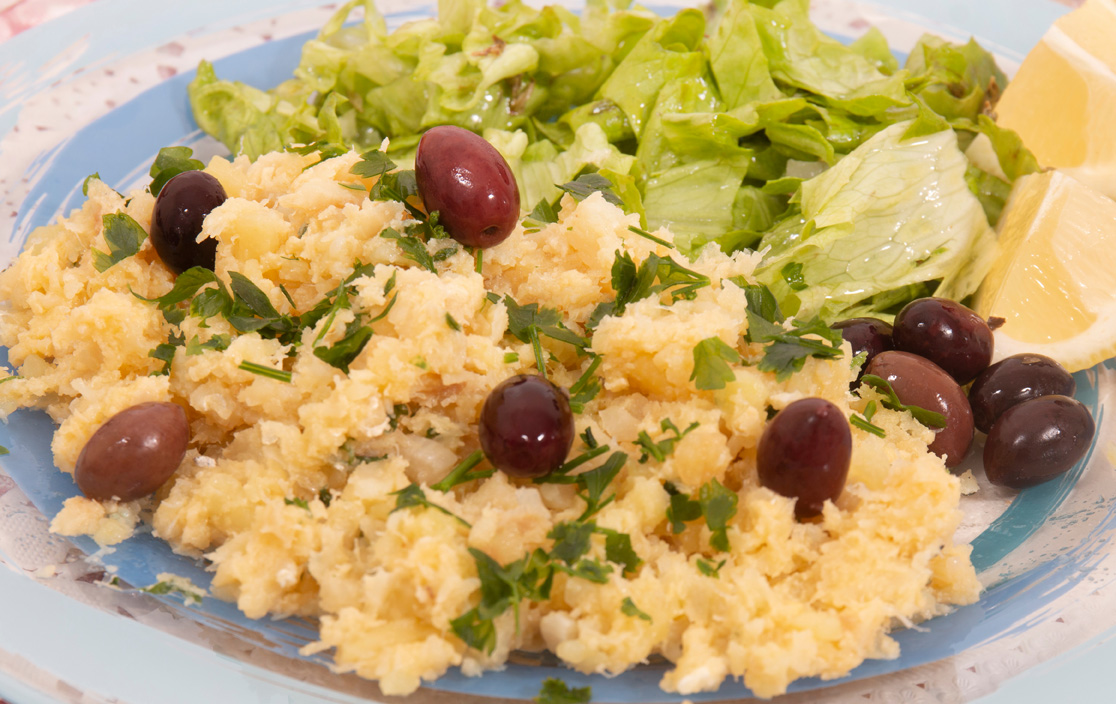 No social media that we know of, but an old school A-board outside with the specials written up in chalk. So drive past, place your order and return half an hour later to collect!
Av. de Santo António, 10, Estremoz
Tel: +351 268 034 814