This week the Alentejo, just like most of the country, suffered some really unpleasant weather. We had received warning SMS messages from the authorities alerting us to the heavy rainfall and storms that were on their way, but we still didn't feel too worried about the impending deluge. We prepared the vegetable garden with soak-away channels, made sure the drains and guttering were free of leaves and debris, got in lots of firewood and settled down for the evening.
However, the night of intense downfall followed about a week of on/off rain meaning that the land was already saturated and the water table high. So we were woken around 4am with slight water infiltration in one bedroom, which by 6am had spread to the kitchen, hallway and bathroom on that side of the house. The floors were soon awash with about 2cm of water, which seemed to be coming up from the floor, so we spent the next 4-5 hours frantically bailing, mopping and getting rid of the water as best we could, taking away at least 30 buckets full. At one point we didn't seem to be making an impact, but once the rain stopped we were able to clean up the remaining water and apart from a few rugs and numerous wet towels we were none the worse.
Heavy rainfall and storms
We checked on the neighbours, offering our help if they needed it, but like us they just seemed to just take it in their stride, sitting it out and cleaning up once it was possible. What had happened is that the little stream below our homes that until now had been hardly noticeable, had suddenly become a 10-metre wide raging river, overflowed it's banks sweeping away fences and the surface of the road, as well as taking down water pipes and part of the farmer's wall—his animal's were safe on high ground but his strawberry fields were inundated.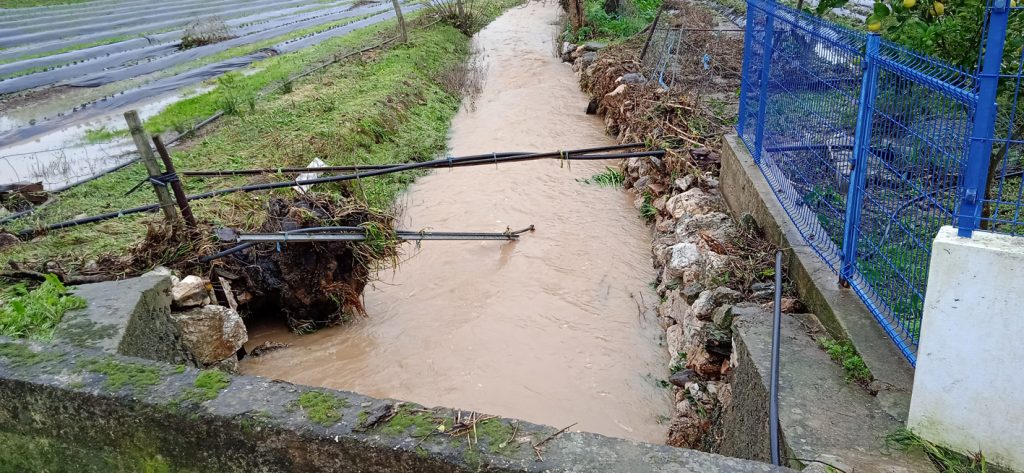 Later, when things calmed down, we went to take a look at the surrounding damage and my partner was able to rescue the water pipes from the river, clear them of debris and re-join them, so that the sheep sheds would have water again.
No lasting damage
Our garden was partly waterlogged, so we had to dig up the potato crop early, rescue them from the mud and they are a little on the small side. In the raised beds the cabbages, broccoli and grelos (rapini) are all thriving, and the well is full!
So what do we have to be grateful for? Lots!
Thankfully the damage to our home was minimal compared to what some people had to face—it could have been a lot worse
My partner did his best to make sure that I, the animals and our home were kept as safe as possible
We worked together as a team to keep things under control and showed that we can be self-reliant
The support of our friends and neighbours who rallied round concerned for our safety and offered to help
We feel lucky that we could help the neighbours with their immediate problems
If we can handle the amount of water that was thrown at us on Monday night, then we can handle anything

😉